14 Amazing "Friendship Day" Deals at the Palms Lekki for You and Your Best Friend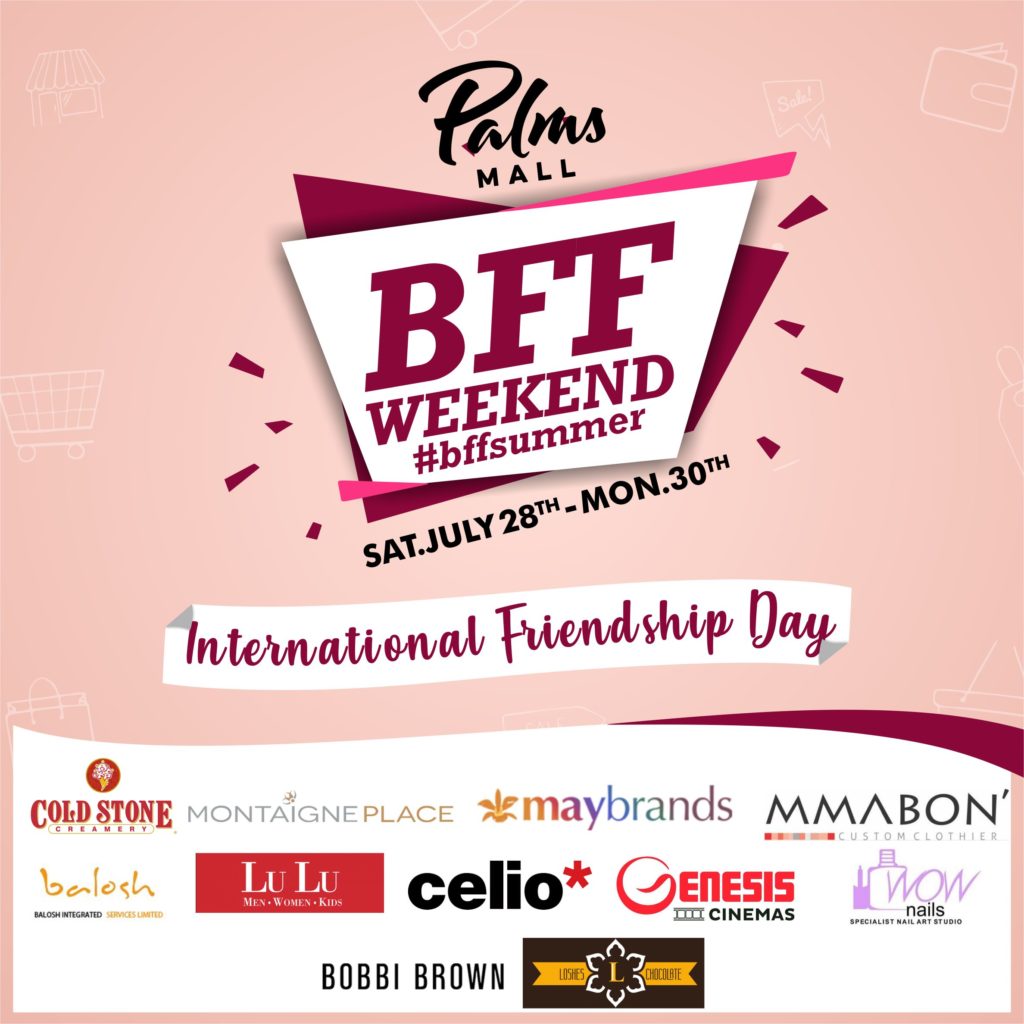 BFF Day at the Palms
Hey, so International Friendship Day is on July 30th. It is the day to celebrate your besties and remind them of how awesome they are. Your best friend deserves to have a wonderful time that weekend with you by their side of course. So guess what? Between Saturday 28th and Monday 30th July 2018, The Palms Mall Lekki is stepping in and asking you to take advantage of some pretty amazing #friendshipday deals and freebies through partner stores.
Think, free ice cream, buy one get one free products, customized t-shirts, movie tickets and so much, much more!
So, this #friendshipday don't just put up a cute photo on Instagram with the hashtag BFF. Back your love with action; go do something with them and have an amazing time together. There's no doubt that you guys deserve it!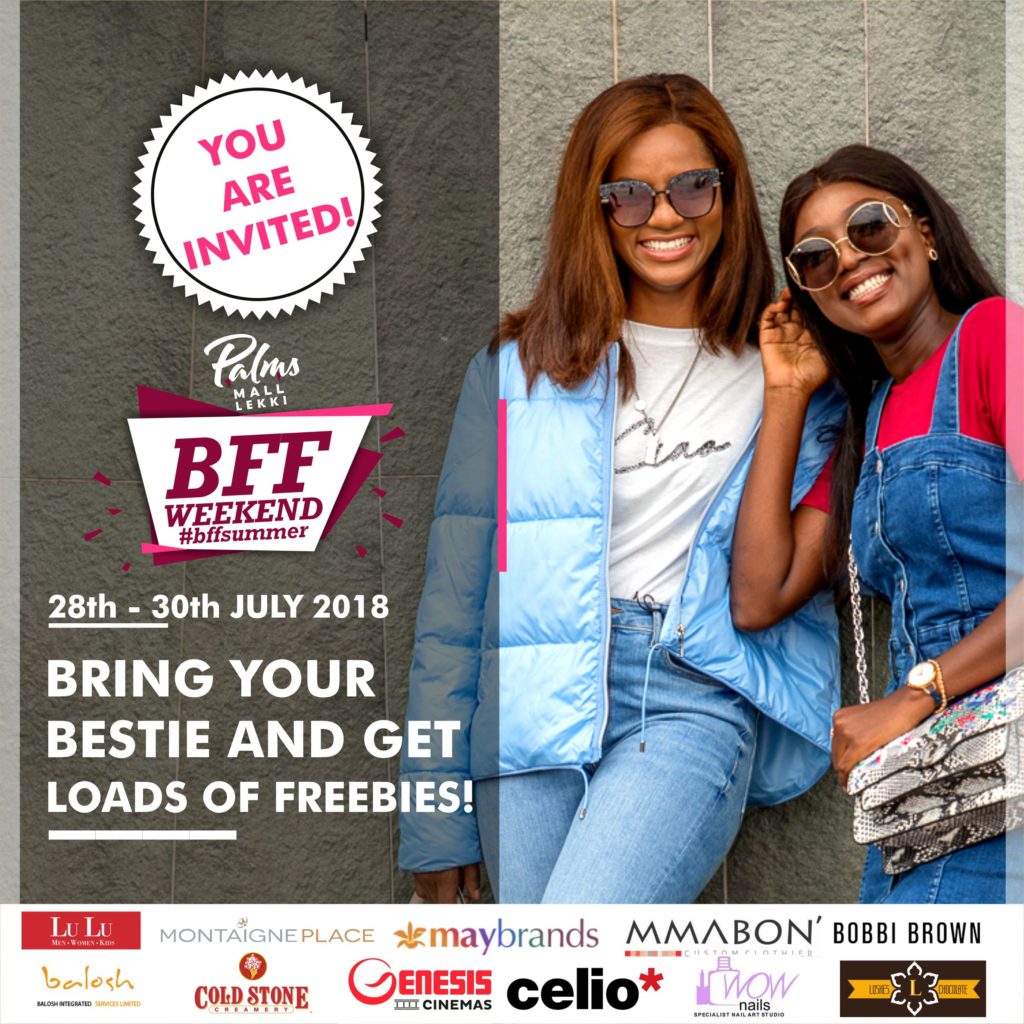 So check this out:
Sweet Kiwi: To celebrate #friendshipday, Sweet Kiwi Yoghurt at the Palms is giving away one free yoghurt to you or your best friend, when you pay for another. That's Buy One Get One Free!!
Loshes Happy Hour: If you are more into the ide of eating chocolate with your best friend rather than just sending them a fancy text message, then look for the Loshes Chocolate stand at the Palms. From 10am to 2pm on July 30th, you can get one 50 percent off Loshes Chocolates!
Montaigne Place: If massages and facials are your thing, Montaigne Place is celebrating #friendship day with a #BYOBF (bring your own best friend) promotion. Free Black Up makeovers at the store. Ip to 75% off on some items! Unbelievable. 20 bottles of perfume to be given out to best photos with your BFF (tag @montaigneplace) This is a sweet deal, y'all
Yves Rocher: Who doesn't like a free skin diagnosis right? That's what we are giving you when you walk into our store! This plus 15% off all products and a special gift with every purchase!!
Wow Nails: Get your girlfriend all dolled up during #friendshipday as Wow Nails gives you up to 20% off all their products at the Mall.
Giant Games: Even kids have best friends! During the #frienshipday weekend, there will be games all around the store for kids to have a little bit of fun
Mabbon Tshirts: Nothing like keepsakes and matching friendship gear with your BFF. Mabbon will create instant t-shirts on site and write anything you want on it. Plus you can also bring your own tshirts and have something printed on. It's a win-win!
Genesis: How about ending a fun day at the Palms with a great movie? Genesis Cinemas is giving away free tickets on July 30th
Free Parking: Paying for parking can be a bit of a problem, especially if you have been at the Mall ALL DAY! So guess what? Parking is absolutely free for #friendshipday celebrations on July 30th! And yes, it's the whole day!
Coldstone Creamery: Who doesn't like ice cream right? We're offering free waffles and mix-ins, get upgraded to larger cup sizes when you pay for a small cup and get bottles of Coca-Cola for free!!
TM Lewin: There is something for the gentlemen! Yes really. At TM Lewin, we are giving out free pocket squares with your purchases. Amazing!
Levis: Massive discounts here people! Two Polo shirts for N23,000 and 2 pairs of jeans for N45,000 during the #bffweekend. Wow!
Swatch: Swatch watches are the coolest. You might just get a goody bag if you walk into the store!
JED Lifestyle: 50 percent off ALL games. Amazing deal!!