THE IRON THRONE CAKE FOR A CAUSE" #ACAKEFORACAUSE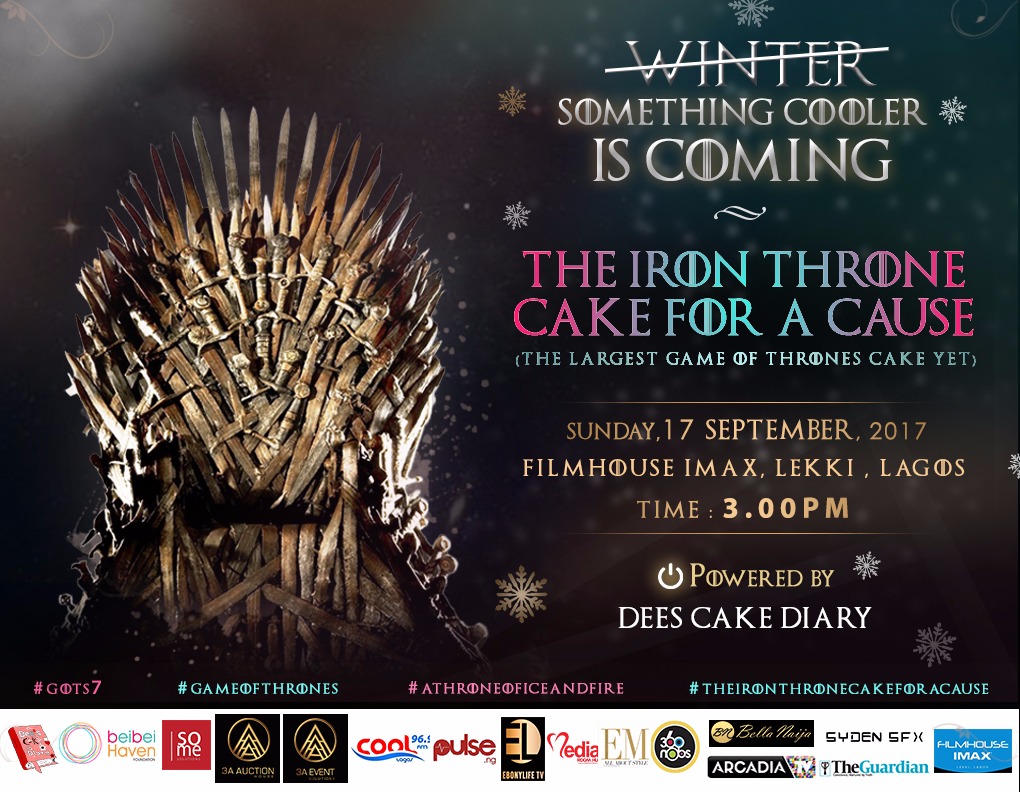 Ever wondered what the largest game of thrones cake will look like…well,
wonder no more. The cake will take over 6 weeks to bake and it is life size, think BIG – over 6 feet tall!
Dees cake diary in partnership with 3A Auction House will be auctioning
the largest game of thrones cake tagged "THE IRON THRONE CAKE FOR A CAUSE" in support of BEI BEI HAVEN FOUNDATION, a global infertility organization that supports couples on their journey from pre-conception to parenthood.
Beibei haven is commited to providing free fertility treatments to low income earner. In collaboration with the best Fertility clinics in Nigeria
The charity provides support, awareness, information and education; and
promoting equal access to fertility treatments.
"No one with fertility challenges should walk alone" Omotade Alalade – Beibei Haven
"One of the toughest things to face on earth is to have just suffered, pregnancy and baby loss."  – Diana Osasu' Oviawe – Head Baker (Dees Cake Diary)
Now, arguably the biggest Game of Thrones Cake in Africa will be acutioned a the Imax film house Lekki with donations in support of this great initiative.
Date: Sunday 17th of September
Venue: Imax Lekki
Time: 3pm
Supported by: 360 nobs, 3A Events, 3A auctions, Pulse TV, CoolFM, Media Room Hub, Guardian life, Bella Naija, Arcadia mobile tv, Ebony life tv, Coolfm, 360 nobs, Pulse, Exqusite Magazine, Syden SFX
Follow on Instagram
@deescakediary @beibeihaven
Watch: https://instagram.com/p/BYsSPsSnNwz/
For more information https://www.beibeihaven.org
PR: @somesolutions