Fashionistas!!!
This Sunday, 27th of august 2017 is the last summer sale edition of Yardsale Nigeria and we are inviting you because your style is awesome and it is the end of summer, come and shop your hearts away.
Come and get styled with outfits from your best celebrities and designer brands. You do not want to miss out on this great opportunity to get the best clothes at affordable prices.
It will be taking place at Zazaii, 36 Balarabe Musa Crescent Lagos Nigeria Victoria Island from 12 P.M till 6P.M noon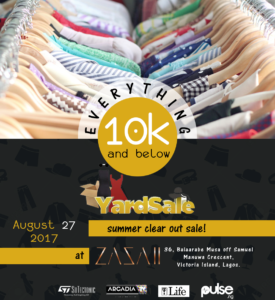 THE FOUNDER
Yard sale Nigeria was founded by Elizabeth Osho who is the founder of SoMe Solutions and her partner Funke Babs. Yard Sale Nigeria is a charity event that raises funds for charity through selling clothes of various clothing brands and celebrities.
The clothes will be sold for prices as low as two thousand naira with a maximum price of ten thousand naira, and shoppers will have the opportunity to grab pieces from their favorite celebrities and experience the luxurious style for themselves .